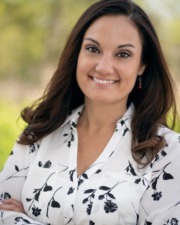 April was born and raised in Virginia Beach, VA., where she still resides with her family and fur babies. When she is not busy helping her clients, you can find her offshore fishing for tuna and marlin, lifting weights at the gym, or hiking in the mountains near Wintergreen, VA. This is how she prefers to unwind after a long week working hard for her clients — enjoying the great outdoors and the 4 seasons of lovely weather Virginia Beach offers.
April was taught at a young age that if you want something in life, you have to work for it. Her grandparents and mother instilled a strong work ethic and taught April that her dreams can become goals that will turn into accomplishments through hard work and perseverance. So that's what she did after graduating from Old Dominion University, she worked with management teams of large and small businesses to improve their client satisfaction, employee retention, and financial success.
April switched gears in 2018 and became a licensed real estate agent after assisting her parents with their move from Arizona to Virginia. She found a delightful sense of accomplishment while helping her parents remodel her grandparents' home to accommodate them for retirement. April had a successful 15-year career in operations management and uses the skills and knowledge gained to assist her clients with the buying and selling process. She aims to provide the highest level of service to her clients and takes deep pride in helping them achieve their real estate goals. At the end of the day she strives to build long lasting relationships based on commitment and trust to create value in the services she provides.